'We're in a much better position tonight than we were 24 hours ago'
About 20 hikers trapped and evacuated above fire
BOULDER – Nearly 3,000 people were forced to flee from a fast-moving fire in north-central Colorado and authorities believe some buildings were lost. The CalWood Fire started arou...
Blaze scorched about 38 acres as of Thursday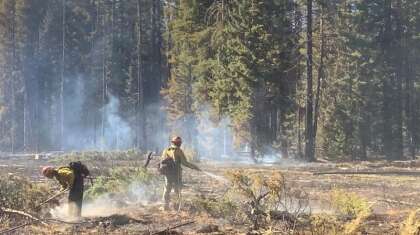 Cause of blaze remains under investigation
Firefighters, aided by helicopters, work to complete fire lines on Sunday
Response interrupted Friday by unapproved drone
Firefighters report limited growth Thursday
2 air tankers, more than 20 firefighters begin initial attack
U.S. Forest Service remains in Stage 1 restrictions
Health department says smoke, Weather Service says clouds
DENVER – Winds fueled a northern Colorado wildfire that emergency officials said has damaged structures and moved beyond barriers established by firefighters to slow the fire's spread. ...