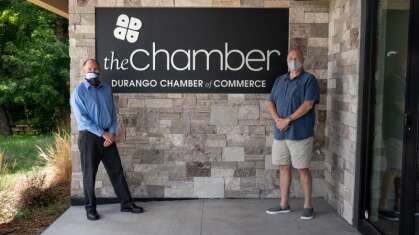 Support to help local businesses hurt by virus
Despite COVID-19, Durango man goes forward opening pizzeria
Cycling races, association meetings, concerts and family reunions are just a few of the events that would normally be traveling to and from Durango or taking place in our region this year. C...
The Region 9 Economic Development District of Southwest Colorado announced that it will receive $743,000 through two awards from the U.S. Department of Commerce's Economic Development Admini...
The La Plata Family Center has moved to a new location, 495 Florida Road, in the lower level of Christ the King Lutheran church. The center is now co-housed with Cafe au Play. An...
Region 9 Economic Development District of Southwest Colorado (Region 9) has announced several new board members approved at their April and July board meetings. New board members include Que...
Comfort Keepers, in collaboration with Dr. Kicki Searfus of Mountain View Family Health Care, will offer La Plata County residents in-home flu shots. A nurse will make home visit...
Steve Elias, dean of Fort Lewis College's School of Business Administration, has been awarded the inaugural Anchor Point Foundation's Startup Champion Award in partnership with the Greater C...
With COVID-19 closing restaurants, Samantha Newcomer created her own summer job
Do you remember how, as kids, we dreaded August coming around because that meant we soon had to go back to school? Isn't it funny how several months can change our perspectives? B...
Durango Herald staff The Southwest Colorado Accelerator Program for Entrepreneurs plans to host its annual Startup Showcase virtually on Sept. 22. Scape's mission is to...
Netflix's subscriber gains earlier this year had many ready to crown it king of quarantine. Instead, it's the video game sector that's laid claim to the throne. The Solactive Vide...