FLC parents purchase downtown cafe, feature locally made products
ALBUQUERQUE – One of New Mexico's largest economic development advocacy groups has launched an online survey to take the temperature of business owners and others on everything from taxes to...
LOS ALAMOS, N.M. – The newspaper that has served the northern New Mexico community of Los Alamos for nearly six decades will publish its last edition on Sunday. The Los Alamos ...
Animas Surgical Hospital has been named one of the top-rated hospitals for patient experience by Becker's Hospital Review. This distinction recognizes Animas Surgical Hospital as being among...
The 2020 SCAPE Startup Showcase will be presented in a virtual format Sept. 22. This approach offers an even greater opportunity for participants to connect with the 2020 cohort ...
Pediatric Associates of Durango invites the community to meet its new providers, Dr. Art Zemach and Dr. Jessica Miller, and say goodbye to Dr. Pakhi Chaudhuri from 11:30 a.m. to 1:30 p.m. or...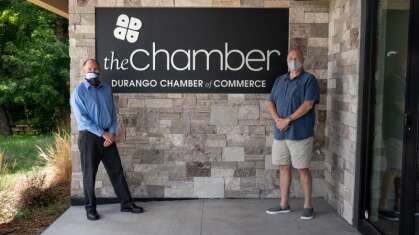 Support to help local businesses hurt by virus
Despite COVID-19, Durango man goes forward opening pizzeria
Cycling races, association meetings, concerts and family reunions are just a few of the events that would normally be traveling to and from Durango or taking place in our region this year. C...
The Region 9 Economic Development District of Southwest Colorado announced that it will receive $743,000 through two awards from the U.S. Department of Commerce's Economic Development Admini...
The La Plata Family Center has moved to a new location, 495 Florida Road, in the lower level of Christ the King Lutheran church. The center is now co-housed with Cafe au Play. An...
Region 9 Economic Development District of Southwest Colorado (Region 9) has announced several new board members approved at their April and July board meetings. New board members include Que...